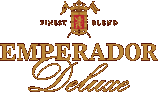 Emperador Deluxe: launched as the spirit imbued with the soul of Spain
Excellent food, wine, and even the songs of Spain filled the grand ballroom of Marriott Manila during a memorable night, as Emperador Distillers chairman Andrew Tan introduced the Emperador Deluxe Spanish Edition.
Emperador executive director and master blender Kendrick Tan described the imported brandy as, "A fine new spirit imbued with the soul of Spain." He shared how he and his father's recent travels to Spain resulted in the acquisition of the Bodega San Bruno trademark, vineyard and all its assets in the brandy-producing region of Jerez, with Emperador Deluxe as the first fruit of their endeavor.
The Tan patriarch thanked his guests for helping make Emperador the No. 1-selling brandy by volume worldwide and expressed his hopes that the Emperador Deluxe Spanish Edition would gain their approval.

With its deep, golden amber hue, fine aroma and subtle flavors, Filipinos and brandy aficionados worldwide will surely enjoy to Emperador Deluxe.